Community Hall
Upcoming Screening of "The Boy in Blue" - April 19th, 7:00pm at the BR Community Hall - FREE
In 1984, Nicolas Cage and Christopher Plummer starred in a movie called "The Boy in Blue", which was partially filmed here in Burritt's Rapids. It was realized worldwide in 1986.
In 31 years, the movie has never been screened publicly here in the village. Until now.
As part of the Canadian Day of Film in celebration of Canada's 150th celebration, more than 1,700 free screenings of select Canadian films will be taking place across Canada on the same day. Although "The Boy in Blue" was not part of their regular catalogue of offerings, the folks at REEL CANADA, the non-profit behind the free screenings, agreed to track down the film's owners/distributors and arrange a screening.
THE DETAILS
Date: Wednesday, April 19th
Time: 7:00pm (doors open at 6:30)
Location: Burritt's Rapids Community Hall
Cost: FREE
Free popcorn and non-alcoholic beverages will be provided compliments of the Burritt's Rapids Community Association (BRCA).
Seating is on a first-come, first-served bases and is limited to 110.
Burritt's Rapids Small Fireworks Show - April 22 (23rd in the event of heavy winds) 2017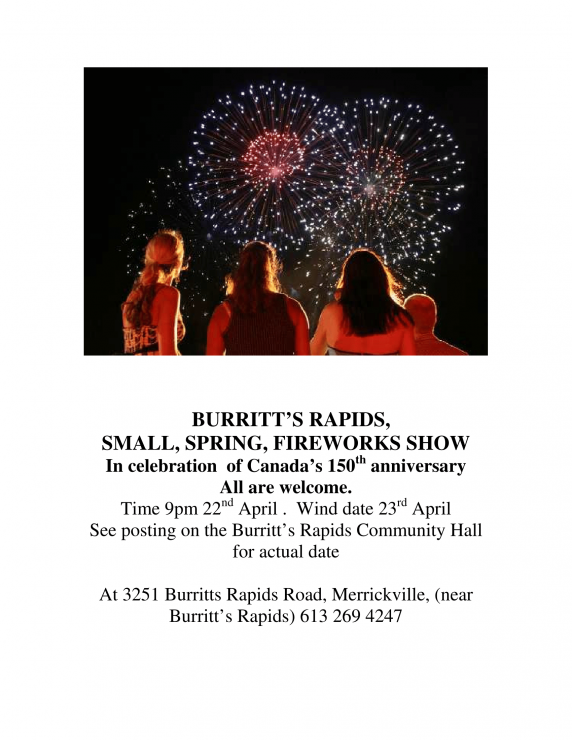 Welcome to our on-line Community!
I hope you find this website a useful tool to keep in touch with activities and events in and around the community of Burritt's Rapids. While things often look quiet in this hamlet, you may be surprised to learn how many projects are underway to maintain and improve our buildings and facilities; to leverage and display it's resources and to bring people together to share and enjoy themselves.
This website is intended to serve the community of Burritt's Rapids, and as such we will endeavor to keep it as up-to-date as possible. What we need from you is your input and feedback so that we know where to spend more effort and where to spend less effort.
Please explore the website to discover what it has to offer.
Inge van Gemeren,
Chair of the Burritt's Rapids Community Association
About Us
Learn more about the Burritts Rapids Community Assocation
Join
Learn how to join the BRCA
Rent the Hall
Learn about our historic community hall, and how to rent it.
Our Sponsors:
---